Road Salt Publications and Outreach
---
---
Scientific PUBLICATIONS ​
(​Niu, S.Q., D.M. Haake, J.H. Knouft. (2019)
Gut content biomass of stream fishes: associations with streamflow velocity, population density, and prey abundance at two spatial scales
. Hydrobiologia, 826(1), 85-97. (doi: 10.1007/s10750-018-3719-4)
Reid, J.L., S. Acha, R.E. Becknell, F. Domene, A. Figueiredo, D. Haake, W.T. Huang, I. Loza, B. Mashburn, J.I. Moreira, K. Pilgram-Kloppe, & E. Young. (2017)
Foundations of Restoration Ecology
. Restoration Ecology, 25, 844-845. (doi: 10.1111/rec.12592)
Haake, D., T. Wilton, K. Krier, T. Isenhart, J. Paul, A. Stewart, & S.M. Cormier. (2010)
Stressor Identification in an Agricultural Watershed: Little Floyd River, Iowa
. U.S. Environmental Protection Agency, National Center for Environmental Assessment, Cincinnati, OH. EPA/600/R-08/131.
Haake, D.M., T. Wilton, K. Krier, A.J. Stewart, & S.M. Cormier. (2010)
Causal assessment of biological impairment in the Little Floyd River, Iowa, USA
. Human and Ecological Risk Assessment, 16(1), 116-148. (doi: 10.1080/10807030903459544)
Powered by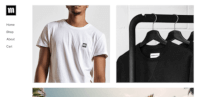 Create your own unique website with customizable templates.